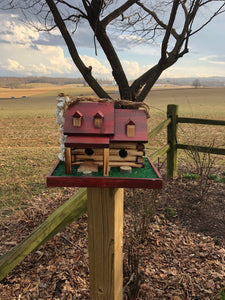 Adorable bird house! This rustic wooden bird house made by our Amish artisans will look wonderful in your garden. This one features two homes for your feathered friends. The stone chimney is a lovely feature of this house.
Hand crafted from white pine with a clear sealant.
Please allow 10-14 days for delivery but we will do our best to get it to you sooner!
View our birdhouse collection at: https://stonebridgecollections.com/collections/rustic-bird-houses
Size: 11.5"L x 8.5"W x 9.5"H