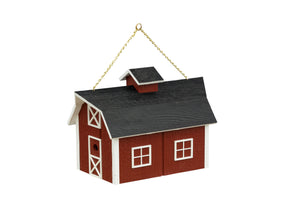 Beautiful hand crafted bird feeder by Amish artisans! Your birds will love to visit this realistic barn style feeder. The nice simplistic style makes it easy to maintain.
This easy to fill and clean bird feeder will be a wonderful addition to your yard. This feeder is built to be durable with hand painted LP Smart Panel wood. Jake and John use this wood so that their creations can handle the elements. Zoom in on the photos to see the resulting texture of this material.
Hang on a hook on a sturdy branch or shepherd's hook.
Don't feed birds? This just plain looks nice in your yard!
This item is typically shipped via UPS. Plan for 7-10 days for us to prepare this for you.